This article was originally published on The Conversation and got picked up by the National Post.
A diplomatic spat between two countries may seem only political at first, but the ongoing Canada-Saudi Arabia spat could have serious economic ramifications as well.
Over the years, international political economy research has demonstrated that bilateral diplomacy has significant economic impacts, especially on bilateral flows such as trade and investment between countries.
Indeed, the influence of politics on international trade has gained acceptance in economics. An increasing number of studies have found that diplomatic relationships between nations, taking the form of state visits, trade missions and the presence of vibrant consulates and embassies, are significant determinants of bilateral trade between countries. A current study in the Research Handbook of Economic Diplomacy found that bilateral diplomatic relations can even have a more pronounced influence on trade than economic integration between two countries.
Conversely, strained political relationships between states can also harm trade between them. Diplomatic tensions among nations increase the risk of trade disruption, mainly because trade must be more profitable than usual to compensate for the risks of disruptions and irritants in the political relationship.
For instance, in my recent study published in the European Journal of Political Economy I estimated that imposing economic sanctions can reduce trade flow between the sender and its target by 17 to 32 per cent.
The Danish cartoons & trade
A specific example is the case of the Muhammad cartoons in 2005-06, when a Danish newspaper published cartoons depicting the Prophet Muhammad that were considered by some to be blasphemous or defamatory towards Muslims. This led to a call for consumer boycotts of Danish goods in a number of Islamic nations, including Saudi Arabia. Empirical evidence indicates the diplomatic spat disrupted Danish exports as much as 18 per cent.
Diplomatic relationships are relevant in minimizing potential risks that businesses encounter in their foreign operations. Various forms of risks —including political, legal and credit woes — may discourage potential exporters from entering foreign markets.
But those risks can be minimized if there are established diplomatic or political ties between countries. This is mainly because they will signal or give assurances to international firms that their governments are on good terms, and thus their interests will be respected.
Canada & Saudi Arabia
The diplomatic rift between Canada and Saudi Arabia was the apparent result of a single tweet from Chrystia Freeland, Canada's global affairs minister, calling for the release of a human right activist.
The tweet not only resulted in a diplomatic brawl, but also the suspension of trade and investment ties between the two countries. This will also culminate in possible travel bans as the Saudi government plans to suspend international flights by the Saudi national airline from Riyadh and Jeddah to Toronto.
The consequences of these rising diplomatic tensions don't just have political ramifications, such as the recall of ambassadors, but could have deleterious economic outcomes for both countries because of the hampering of trade between the two countries.
Trade volume between Canada and Saudi Arabia exceeded US$3 billion in 2017. The trend shows a steady increase in bilateral trade over the years, since 2002, as depicted in the figure below: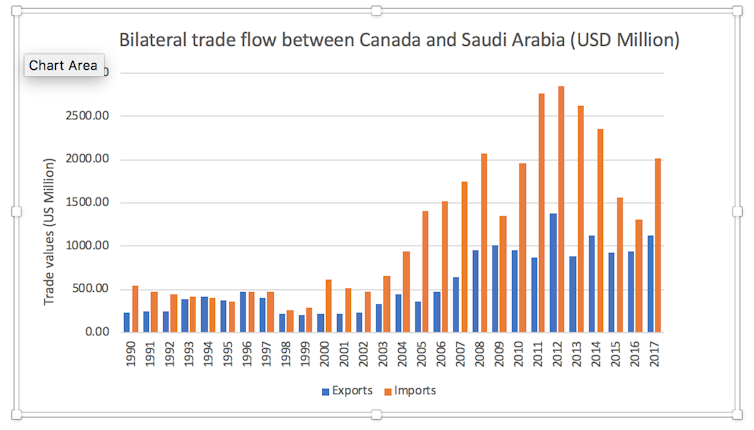 Consistently, the trade flow between them increased, even at the peak of the global financial crisis a decade ago. However, this consistent increase was derailed slightly by a minor diplomatic spat in 2008-09 following an ultimately unsuccessful attempt by Saudi Arabia to publicly behead a Canadian citizen. The consequence was a dip in trade flows between both countries in 2009.
What products will be affected?
Specific products that may be adversely affected by this strained relationship are illustrated in the figure below, showing the values and the percentage of specific products that Canada exports to Saudi Arabia: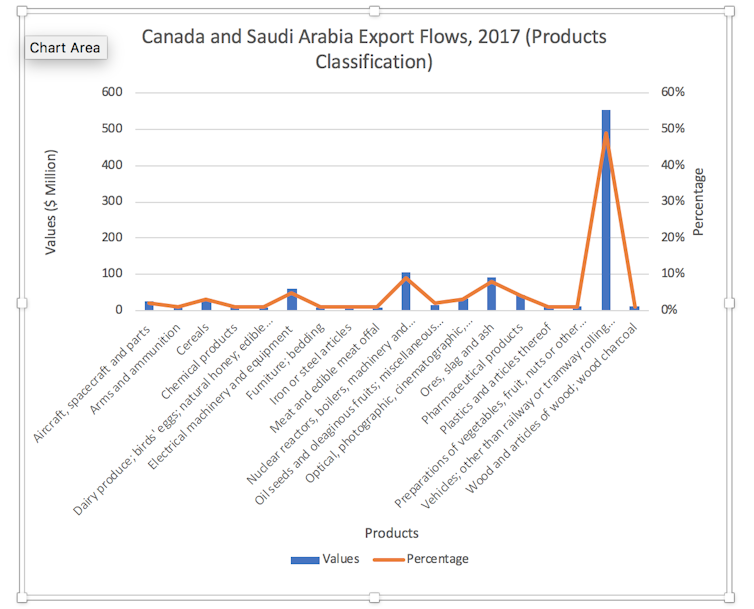 Vehicle and transport equipment account for the highest share of Canada's export to the kingdom, totalling over US$500 million in 2017. Losing a market that accounts for half a billion dollars is significant, particularly because U.S. steel and aluminium tariffs are also negatively affecting this industry in Canada at the moment.
The Canadian agri-food sector could also be adversely affected if the diplomatic spat affects its exports. Agri-food exports from Canada to Saudi Arabia amounted to about US$93 million in 2017, and together they account for about nine per cent of Canada's total exports to the Saudi kingdom.
Specifically, cereals, oil seeds and oleaginous fruits (fruits used to produce vegetable oils) together account for five per cent of total exports to Saudi Arabia. Already, the Saudis have indicated they will stop purchasing Canadian wheat and barley.
Canada has a trade deficit with Saudi Arabia, and the kingdom's imports are dominated mostly by crude oil. Mineral fuels, mineral oils and products of their distillation, bituminous substances and mineral waxes account for 95 per cent of total imports from Saudi Arabia, totalling about US$1.9 billion in 2017.
Considering that crude oil is a hot commodity, the Saudis can easily find new buyers, even if Canada also decides to boycott Saudi's oil in retaliation.
Maintaining diplomatic ties is critical
The trade-deteriorating effects of diplomatic tensions are real, even without explicit economic sanctions among states. What's more, threats of trade boycotts by autocratic regimes can be carried out with much more ease than in democratic countries.
Saudi Arabia is an autocratic state, and its administration has a greater capacity and authority to enforce the boycotts, even over private businesses.
It will be therefore in the best interests of both countries to safeguard their good diplomatic relations. They should not allow a mere tweet to derail the cordial relationship that has existed between them for years. Strong diplomatic ties are undeniably important in order to deepen the bilateral economic and trade relationship between Canada and Saudi Arabia.

Western countries must understand that it is only possible to improve human rights conditions in despotic countries by maintaining diplomatic ties. Otherwise, the use of force and sanctions will curtail political and civil rights and further deteriorate human rights and democratic freedom of the civilian population.